The people responsible claim nobody could have predicted what happened in Afghanistan this week. But their experts did in fact did predict it, which wasn't exactly hard, and then the people in charge lied about it. The public now desperately needs to understand how governments operate, or it will all happen again. And soon.
Today's episode of The Private Citizen deals with some breaking news: The situation in Afghanistan and what it means for all of us who believe in individual freedom and the rule of law.
But first, some housekeeping: As I predicted last week, my second vaccine shot knocked me out again for a few days. It wasn't as bad as my experience the first time around but enough to keep me laid up in bed and on the couch for three days. Luckily, I recorded and released last week's episode earlier because I expected this. I know I still owe you a couple of extra episodes, but there was no way I could get that done last week. I was simply unable to work for most of it.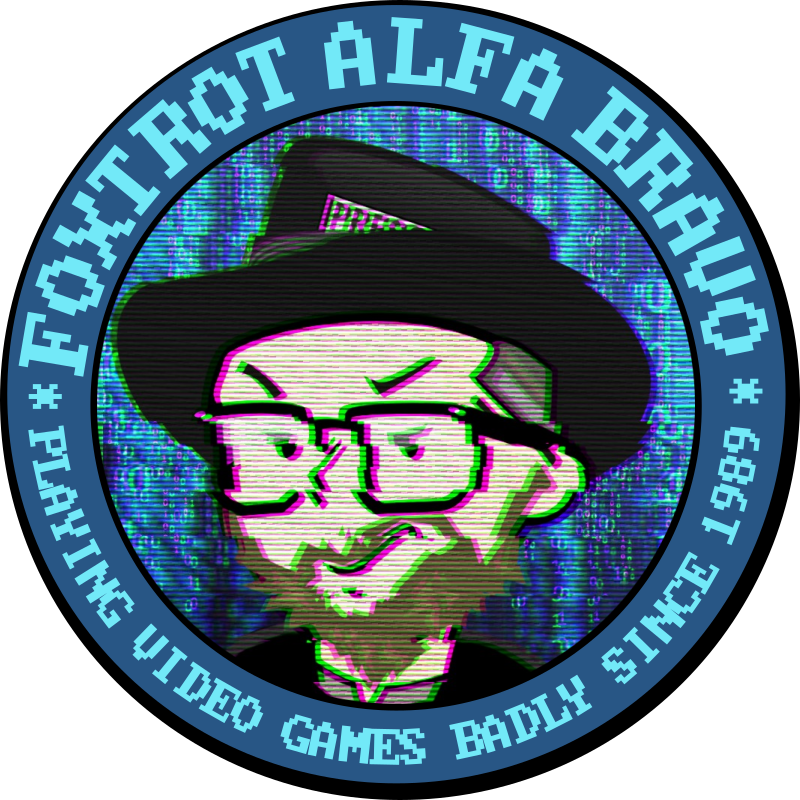 This podcast was recorded with a live audience on my Twitch channel. Details on the time of future recordings can usually be found on my personal website. Recordings of these streams get saved to a YouTube playlist for easy watching on demand after the fact.


The Fall of Kabul
The United States are finally pulling out of their lost war in Afghanistan, the longest war the US have ever been involved in. As anyone with half a brain could have predicted, this has led to the collapse of the Afghan government and a massive counter-offensive of the Taliban leading to scenes reminiscent of the Fall of Saigon. In fact, these two wars seem to have a hell of a lot in common in general, including the copious propaganda and downright lies spread about them by government officials.
The current situation on the ground in Afghanistan is dire:
International leaders on Monday were scrambling to respond to the chaotic situation in Afghanistan that deteriorated more quickly than many anticipated. Several countries, including Canada, the United States, Norway, and Denmark have shuttered their embassies, but the Western troop presence in Afghanistan is increasing as nations evacuate both their own citizens and the Afghans who helped their governments during the 20-year war amid chaos and violence at the airport in Kabul after the city fell to the Taliban.

The UK is sending 900 troops to Kabul to help evacuate British citizens, while the United States has tapped at least 6,000 military personnel to be sent into Afghanistan to help secure the airport, where Afghans are flooding the tarmac desperately trying to leave the country and American forces reportedly killed two armed Afghans. Still, it might not be enough. British Defence Secretary Ben Wallace choked back tears on Monday during an interview with radio station LBC where he acknowledged the UK may not be able to evacuate everyone eligible to leave Afghanistan.

On Friday, the Associated Press reported that girls in the northern Takhar province were stopped and beaten for wearing sandals that the Taliban deemed too "revealing," and in Kunduz, the Taliban is reportedly going door to door looking for former Afghan government officials. NATO countries, many of which fought alongside American troops for the past 20 years, released a statement after a Friday meeting saying the Taliban "will not be recognised by the international community if they take the country by force." China and Russia, however, have already suggested they would recognize and have "cooperative" relations with the Taliban now that they are in power.
Instead of pulling its forces out, the US military is now engaged in a huge rescue operation:
The U.S. is ramping up its airlift for Americans and Afghans fleeing the Taliban and will be able to evacuate 5,000 to 9,000 people per day, Pentagon press secretary John Kirby said Tuesday. The rapid escalation of military airlift – ramping up to as many as one departing flight per hour within the next 24 hours – is occurring as the Taliban have taken control of all traffic outside of Hamid Karzai International Airport.

On Tuesday, the Pentagon also acknowledged the extraordinary efforts of an Air Mobility Command C-17 Globemaster crew, Reach 871, who chose not to force out hundreds of Afghans who scrambled over a half-closed back ramp and instead got as many aboard as they could, then took off, rescuing a total of 640 evacuees.

Overnight, an additional 1,000 U.S. troops landed at the airfield to bolster the roughly 3,000 already there, said Maj. Gen. Hank Taylor, director of current operations for the Joint Chiefs of Staff. Overnight, about another 700 Afghans and 165 American citizens were flown out of the country, Taylor said.

National Security Advisor Jake Sullivan said there are "reasonable" questions to be asked about whether the administration should have begun evacuating American citizens, diplomats, and Afghans who helped U.S. troops during the war earlier. But he said Afghan officials "made a passionate case" against a mass exodus that might signal a loss of support for the Afghan government. Asked if there was anything the White House could have done to avoid the chaos at the airport in Kabul, Sullivan said that the situation on the ground once the Taliban came into Kabul would be the same even if there were no U.S. troops on the ground, adding that the administration has been urging Americans to leave the country for weeks, yet many chose to stay until the last possible minute.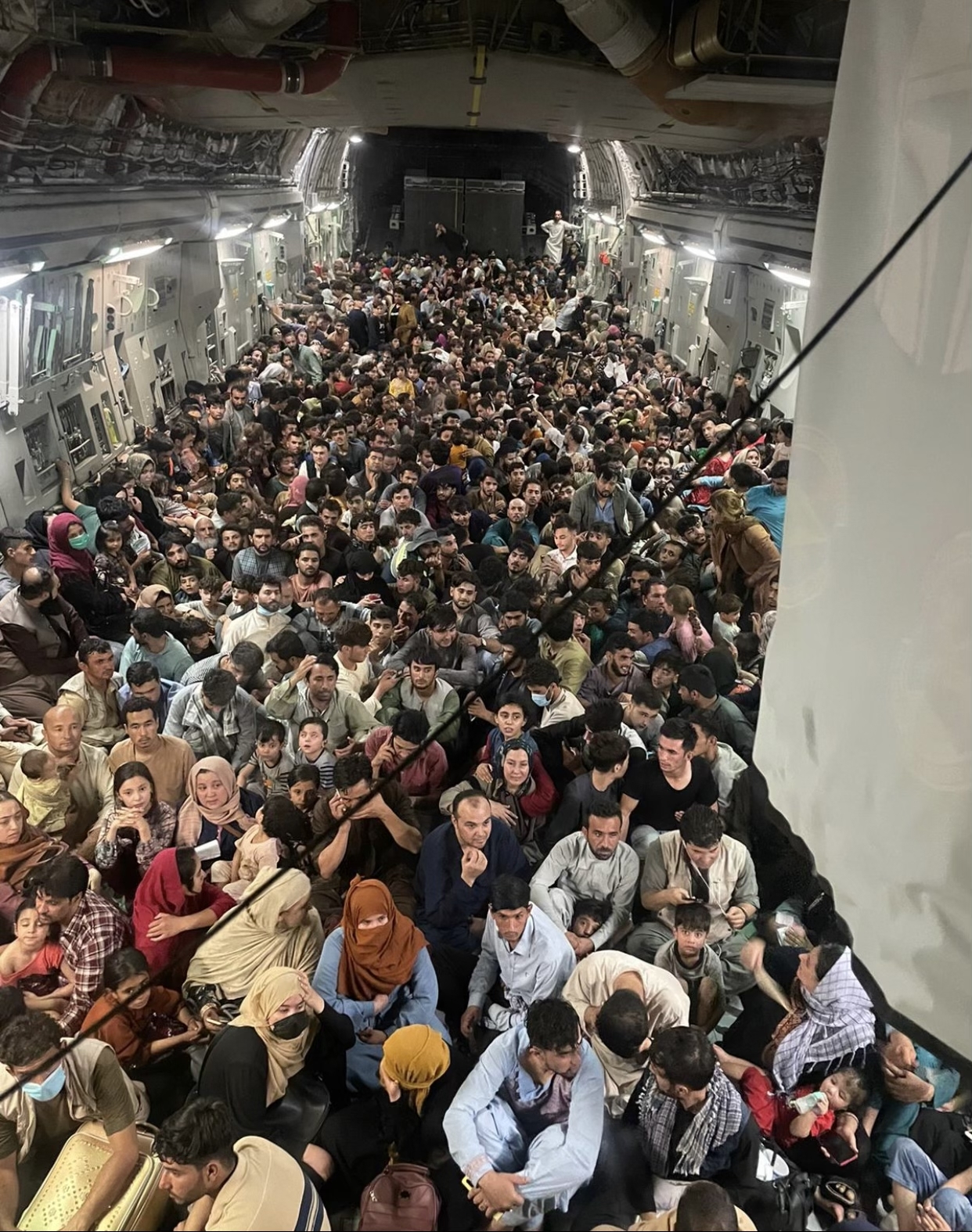 The inside of US Air Force flight "Reach 871", a C-17 flown from Kabul to Qatar on 15 August 2021 (Source: Defense One)
Nobody Saw it Coming?
Now that the disastrous end of the US-led and instigated 20-year NATO mission is all too visible on screens all around the world, the politicians responsible claim nobody could have seen it coming:
Once countries have dealt with the immediate need to evacuate personnel and protect human rights, it's important to evaluate how the situation in Afghanistan deteriorated so quickly, said Armin Laschet, a top contender to replace German Chancellor Angela Merkel when she steps down this year. On Monday, he slammed NATO for withdrawing troops in a way that created the humanitarian crisis in Afghanistan, calling it "the biggest debacle that NATO has seen since its foundation."

"We will talk about the causes and conclusions drawn after this rescue mission – a no holds barred analysis of errors in Germany, with our allies and in the international community," he said.
Apparently, everyone involved was blind to the consequences:
German Foreign Minister Heiko Maas said the failure to anticipate the speed of the Taliban's advance was a collective error. "There is no talking this up. All of us – the federal government, intelligence services, the international community – misjudged the situation," Maas told a press conference in Berlin.
The man who is responsible for coordinating the withdrawal of the US forces, Joe Biden, is leading the pack with this strategy. Naturally.
Speaking to the American people from the East Room after returning briefly to the White House from Camp David, Mr. Biden said he had no regrets about his decision to end the longest war in United States history. But he lamented that two decades of support failed to turn the Afghan military into a force capable of securing its own country.

"We gave them every tool they could need. We paid their salaries. Provided for the maintenance of their airplanes," Mr. Biden said. "We gave them every chance to determine their own future. What we could not provide was the will to fight for that future." Mr. Biden acknowledged that the Taliban victory had come much faster than the United States had expected and that the withdrawal was "hard and messy."

But in his speech, Mr. Biden spent far more time defending his decision to depart from Afghanistan than the chaotic way it was carried out. Mr. Biden rejected criticism from allies and adversaries, insisting that his administration had planned for the possibility of a rapid Taliban takeover and expressing pride that diplomats and other Americans had been evacuated to relative safety at the airport.

"Afghanistan political leaders gave up and fled the country," he said, accusing the military of laying down its arms after two decades of U.S. training and hundreds of billions of dollars in equipment and resources. "If anything, the developments of the past week reinforced that ending U.S. military involvement in Afghanistan now was the right decision." Mr. Biden said President Ashraf Ghani, who escaped the country over the weekend as the Taliban advanced, failed to live up to his promise that the Afghan military was prepared to defend the country after the last American forces departed. "Mr. Ghani insisted the Afghan forces would fight, but obviously he was wrong," Mr. Biden said.
Excuse me? What? With the full might of the US military and the world's biggest surveillance and espionage apparatus behind you, you're saying its not your fault because you took the guy's word for it? What the fuck!? This is a pre-school kid's excuse coming out of the mouth of a sitting US president!
Just as I predicted in January, Biden failed hard when it came to his first big foreign policy outing. And it seems that this failure has been so bad and so public, that even the usually pretty Biden-friendly press can't hold back this time:
President Joe Biden long touted his foreign policy credentials as a core asset he'd bring to the Oval Office. And once he was in the White House, he proudly proclaimed "America is back" on the world stage. Instead, chaos and confusion dominated his first major foreign policy decision – the withdrawal of U.S. troops from Afghanistan.
Far from bringing a return to stability as he promised, it has led to the sort of imagery he insisted would not take place on his watch: scenes of American diplomats fleeing the U.S. embassy by helicopter as the Taliban tightened their noose around Kabul.

"The White House was clearly blindsided and unprepared for the speed of Afghanistan's collapse. Even Biden allies will not try to claim this as a job well done or say this is what they had planned. After all, nobody would have planned for a last-minute evacuation that was just thrown together out of necessity," said Brian Klaas, a political analyst and expert on democracies who now teaches at University College London.

For months, Biden's advisers had been downplaying the likely political impact of the U.S. exit, pointing to polls showing that voters were tired of war and just wanted to bring the troops home. And they noted that it was Biden's predecessor, Donald Trump, who approved the peace agreement with the Taliban in his final year in office. It's the execution of the withdrawal policy, however, that's under assault – a particular failure given it happened under a president who since the presidential primary boasted he stood out from the pack because of his four decades serving on the Senate Foreign Affairs Committee and his time on the global stage as vice president.

"Whether the policy was right or wrong," Klaas said, "the execution was clearly botched."

The end of America's longest war was supposed to happen quietly. But the chaotic American departure from Kabul suggests that Biden will forever own what is undoubtedly a humiliating coda for a doomed nation-building effort that began shortly after 9/11 and will end shortly before the 20-year anniversary of that tragedy. Perhaps the most damning moment for Biden were his own words at a July 8 news conference, when he explicitly declared there would be no parallels between the U.S. withdrawal from Afghanistan and the fall of Saigon, when military helicopters took part in an urgent evacuation in the final days of the Vietnam War. "There's going to be no circumstance where you see people being lifted off the roof of an embassy," Biden said then. "It is not at all comparable."

The whole episode hit home for Rep. Stephanie Murphy (D-Fla.) a Vietnamese refugee whose parents escaped the war-torn country by boat when she was an infant. Murphy said her heart breaks for those battling to leave Afghanistan and expressed disappointment in how the U.S. was departing.

"I also worked at the Department of Defense, I know what a planned drawdown looks like. I know what an orderly departure looks like. I'm disappointed that this is the way in which we are withdrawing," Murphy said in an interview Sunday. Murphy participated in lawmakers' call with Blinken, Austin and Milley, observing, "I think Gen. Milley's silence on the White House call when questioned about the 'how' is a reflection of, he gave his best military advice and it wasn't heeded by the politicians."
Oh, They Knew!
The idea that the politicians in charge (especially in the US) had no idea what would happen, is clearly bullshit. Glenn Greenwald explains very clearly why this idea is all propaganda and lies in a piece on Substack:
"The Taliban regime is coming to an end," announced President George W. Bush at the National Museum of Women in the Arts on December 12, 2001 – almost twenty years ago today. Five months later, Bush vowed: "In the United States of America, the terrorists have chosen a foe unlike they have faced before… We will stay until the mission is done." Four years after that, in August of 2006, Bush announced: "Al Qaeda and the Taliban lost a coveted base in Afghanistan and they know they will never reclaim it when democracy succeeds – The days of the Taliban are over. The future of Afghanistan belongs to the people of Afghanistan."

For two decades, the message Americans heard from their political and military leaders about the country's longest war was the same. America is winning. The Taliban is on the verge of permanent obliteration. The U.S. is fortifying the Afghan security forces, which are close to being able to stand on their own and defend the government and the country.

Just five weeks ago, on July 8, President Biden stood in the East Room of the White House and insisted that a Taliban takeover of Afghanistan was not inevitable because, while their willingness to do so might be in doubt, "the Afghan government and leadership… clearly have the capacity to sustain the government in place." Biden then vehemently denied the accuracy of a reporter's assertion that "your own intelligence community has assessed that the Afghan government will likely collapse." Biden snapped: "That is not true. They did not – they didn't – did not reach that conclusion." Biden continued his assurances by insisting that "the likelihood there's going to be one unified government in Afghanistan controlling the whole country is highly unlikely." He went further: "the likelihood that there's going to be the Taliban overrunning everything and owning the whole country is highly unlikely."

When asked about the Taliban being stronger than ever after twenty years of U.S. warfare there, Biden claimed: "Relative to the training and capacity of the Afghan National Security Forces and the training of the federal police, they're not even close in terms of their capacity." On July 21 – just three weeks ago – Gen. Mark Milley, Biden's Chairman of the Joint Chiefs of Staff, conceded that "there's a possibility of a complete Taliban takeover, or the possibility of any number of other scenario," yet insisted: "the Afghan Security Forces have the capacity to sufficiently fight and defend their country."

Similar assurances have been given by the U.S. Government and military leadership to the American people since the start of the war. None of this was true. It was always a lie, designed first to justify the U.S's endless occupation of that country and, then, once the U.S. was poised to withdraw, to concoct a pleasing fairy tale about why the prior twenty years were not, at best, an utter waste. That these claims were false cannot be reasonably disputed as the world watches the Taliban take over all of Afghanistan as if the vaunted "Afghan national security forces" were china dolls using paper weapons.

Just as they did for the war in Afghanistan, U.S. political and military leaders lied for years to the American public about the prospects for winning in Vietnam. On June 13, 1971, The New York Times published reports about thousands of pages of top secret documents from military planners that came to be known as The Pentagon Papers. Provided by former RAND official Daniel Ellsberg, who said he could not in good conscience allow official lies about the Vietnam War to continue, the documents revealed that U.S. officials in secret were far more pessimistic about the prospects for defeating the North Vietnamese than their boastful public statements suggested.

The pattern of lying was virtually identical throughout several administrations when it came to Afghanistan. In 2019, The Washington Post – obviously with a nod to the Pentagon Papers – published a report about secret documents it dubbed "The Afghanistan Papers: A secret history of the war." Under the headline "AT WAR WITH THE TRUTH," The Post summarized its findings: "U.S. officials constantly said they were making progress. They were not, and they knew it, an exclusive Post investigation found." As the Post explained, "the documents contradict a long chorus of public statements from U.S. presidents, military commanders and diplomats who assured Americans year after year that they were making progress in Afghanistan and the war was worth fighting." Those documents dispel any doubt about whether these falsehoods were intentional.

Last month, the independent journalist Michael Tracey, writing at Substack, interviewed a U.S. veteran of the war in Afghanistan. The former soldier, whose job was to work in training programs for the Afghan police and also participated in training briefings for the Afghan military, described in detail why the program to train Afghan security forces was such an obvious failure and even a farce. "I don't think I could overstate that this was a system just basically designed for funneling money and wasting or losing equipment," he said. In sum, "as far as the US military presence there – I just viewed it as a big money funneling operation": an endless money pit for U.S. security contractors and Afghan warlords, all of whom knew that no real progress was being made, just sucking up as much U.S. taxpayer money as they could before the inevitable withdraw and takeover by the Taliban.

In light of all this, it is simply inconceivable that Biden's false statements last month about the readiness of the Afghan military and police force were anything but intentional. That is particularly true given how heavily the U.S. had Afghanistan under every conceivable kind of electronic surveillance for more than a decade. A significant portion of the archive provided to me by Edward Snowden detailed the extensive surveillance the NSA had imposed on all of Afghanistan. In accordance with the guidelines he required, we never published most of those documents about U.S. surveillance in Afghanistan on the ground that it could endanger people without adding to the public interest, but some of the reporting gave a glimpse into just how comprehensively monitored the country was by U.S. security services. In 2014, I reported along with Laura Poitras and another journalist that the NSA had developed the capacity, under the codenamed SOMALGET, that empowered them to be "secretly intercepting, recording, and archiving the audio of virtually every cell phone conversation" in at least five countries. At any time, they could listen to the stored conversations of any calls conducted by cell phone throughout the entire country.

There was virtually nothing that could happen in Afghanistan without the U.S. intelligence community's knowledge. There is simply no way that they got everything so completely wrong while innocently and sincerely trying to tell Americans the truth about what was happening there.

In sum, U.S. political and military leaders have been lying to the American public for two decades about the prospects for success in Afghanistan generally, and the strength and capacity of the Afghan security forces in particular – up through five weeks ago when Biden angrily dismissed the notion that U.S. withdrawal would result in a quick and complete Taliban takeover. Numerous documents, largely ignored by the public, proved that U.S. officials knew what they were saying was false – just as happened so many times in prior wars – and even deliberately doctored information to enable their lies.
See also:
→ The Gulf of Tonkin incident
→ Daniel Ellsberg's Pentagon Papers
→ The Washington Post's Afghanistan Papers: At War With the Truth
Matt Taibbi, also writing at Substack, identifies a clear pattern of US foreign policy here. A pattern that has caused untold death and suffering in the decades since World War II. And he also explains how Biden, who's been involved in US politics longer than pretty much anyone else, is as guilty as the rest of perpetuating the pattern instead of identifying and preventing it.
The pattern is always the same. We go to places we're not welcome, tell the public a confounding political problem can be solved militarily, and lie about our motives in occupying the country to boot. Then we pick a local civilian political authority to back that inevitably proves to be corrupt and repressive, increasing local antagonism toward the American presence.

In response to those increasing levels of antagonism, we then ramp up our financial, political, and military commitment to the mission, which in turn heightens the level of resistance, leading to greater losses in lives and treasure. As the cycle worsens, the government systematically accelerates the lies to the public about our level of "progress." Throughout, we make false assurances of security that are believed by significant numbers of local civilians, guaranteeing they will later either become refugees or targets for retribution as collaborators. Meanwhile, financial incentives for contractors, along with political disincentives to admission of failure, prolong the mission.

This all goes on for so long that the lies become institutionalized, believed not only by press contracted to deliver the propaganda (CBS's David Martin this weekend saying with a straight face, "Everybody is surprised by the speed of this collapse" was typical), but even by the bureaucrats who concocted the deceptions in the first place. The look of genuine shock on the face of Tony Blinken this weekend as he jousted with Jake Tapper about Biden's comments from July should tell people around the world something important about the United States: in addition to all the other things about us that are dangerous, we lack self-knowledge.

Even deep inside the machine of American power, where everyone paying even a modicum of attention over the last twenty years should have known Kabul would fall in a heartbeat, they still believe their own legends. Which means this will happen again, and probably sooner rather than later.
And yet, despite of this unmitigated disaster, pulling out of Afghanistan was the right thing to do. Trump was right to initiate it and Biden was right to follow up on it. That war should have never happened. It was a stupid thing to do from the very beginning and I am very sad, Germany involved itself with it at all. The war should not have happened, but it did. But that means the US should have pulled out much earlier. Since Bush started it, it was unrealistic to expect him to stop it. But Obama should have done so immediately. It's not like the lessons from Vietnam weren't there for all to see at the start of it.
What the Public Needs to Realise Now
Wars are bad and governments lie. Don't believe Biden and Maas when they say nobody could have seen it coming. They did. They knew and they lied – it's called propaganda.
We can't really blame the government for doing things like this. It's how governments work. But what we, as private citizens, need to do now is stop believing this crap. It's obvious that they knew and very unbelievable propaganda is being repeated by the press and the public. It's all a very transparent way of deflecting blame from the people who caused this obvious disaster. Stop falling for their lies! That's the only way to make sure this won't happen again in ten years.
Stop believing that wars can be a force for good in the world. Stop believing that the military exists to protect you, it exists to protect the interests of the state and its government. Stop believing that mass surveillance increases security. And for that matter, stop believing that idiotic security theatre measures (like outlawing liquids and forcing people to wear masks) increase security.
Stop taking things you read on the internet, see on TV and hear on the radio as a given, just because you think you can trust the source. Look up the facts for yourself and start thinking critically about what is reported by whom. Start to think for yourself! It's the only way to make sure we don't get dragged into disasters like this over and over again.
Producer Feedback
Evgeny Kuznetsov continues our discussion from last time:
You make a good point there. I see a couple of flaws in your argument, though. You say that you're not saying YT should be banned from EU, that they just need to be enforced to comply (by fines and other economical measures, as far as I understand), yet one needs to consider the possibility of YT saying "to hell with it, it's not worth it" and stop providing service in EU altogether if both compliance and lack thereof turn out to be too expensive, a "reverse ban" of sorts. Google has a history of doing just that in jurisdictions where news outlets are entitled to be paid to be quoted in search results, right? Will such a situation be net beneficial? I doubt it.

Also, I generally agree that me living in a country where local laws forbid the YouTube that I enjoy is my own problem, and that you shouldn't be "punished" (by YouTube neglecting the laws that you enjoy) for my benefit. But… Different good services spawn in different jurisdictions, and I can't help but think the local laws have something to do with it. It took China to produce AliExpress, and I seriously doubt that the AliExpress we know and love could originate from France or Russia. There are reasons why Linux was started by a guy in Finland, not a guy in Pakistan. There are reasons why YouTube and Facebook are American and not German. And I believe the fact people all over the world can use to their benefit the services that weren't or even couldn't have been created where those people live is one of the greatest things about the Internet. I fear that excessive enforcing of the local jurisdictions will in the end result in the Internet separating in local chunks and no longer functioning as a whole.

Let's say you operate an email service in Germany. Let's say you have two customers, one in Benevia, another one in Crookistan. Benevia's law is very strict: under no circumstances any private letters of a Benevian resident can be subject to search or algorithmical surveillance. Crookistan's law is very strict, too: every private letter of a Crookistan resident should be automatically searched for criticism and plots against the Crookistan government child pornography. There is no way you can deliver a letter from one client to the other without breaking either Benevian or Crookistani laws. It's just logically not possible. You will be forced to cease operations in at least one of these countries. This example is intentionally exaggerated, I just want to illustrate the point: local laws are not only different, they are in many ways incompatible. Strict enforcement will tear our beloved Interwebs apart.

Oh, and I forgot to mention: loving the discussion, thank you for it!
ezequiel017 has some feedback on my take on Apple and privacy from the previous episode:
Interesting episode regarding Apple. It's hard to know what to do these days if you want reasonable privacy and use a smartphone. I use an iPhone with a fairly minimal set of apps, but still use apps for my bank, credit card, Protonmail, Signal, Matrix, Reddit, Twitter, Password Manager and a couple of others. Of course to use any apps except the ones delivered with the phone, you still need to be signed in with a iCloud account with all of the tracking that entails. Ditto with Android phones, hard to use without a Gmail account.

I tried using a Pixel 4a with GrapheneOS for a few months, with just Protonmail, Signal, Bitwarden and an open source mapping app. It's definitely possible to do but you lose a lot of the "convenience" of the smartphone, and you have to remember to back up all of your data regularly. In the end the open source mapping app broke me and made me return to iPhones (decided to stop working during a long drive to an unfamiliar city). But, with recent Apple announcements I might give it another go.

Oh, and I totally agree that Apple markets itself as the more privacy focussed option, but it's pure marketing and we should remember it's no different to someone selling magic beans that "may make you lose weight" etc.
An anonymous listener writes:
Hope you aren't too uncomfortable from your vaccination.

First an aside about the FBI calling ahead. My friend once had a visit from some "gentleman callers" of the FBI who turned over her place. No, they didn't call ahead. Not sure they even had a warrant. She's a little evasive about it. It was clear that they were less like Fox and Mulder and more like the Smoking Man, or worse. She said something about the lead investigator's "dead eyes" and was very scared. Makes you wonder how a country with these founding principles got to where police and military units have so many "scary dudes you don't want to fuck with."

On mode7 raising free and open source software as a solution to privacy problems and using FSF terminology like antifeatures, I'm with him. I'll avoid the debate on whether FSF's puritanical or extreme stances are more helpful or harmful. That would be a better conversation to have with someone like Bradley Kuhn. It would be awesome to have him on the show, BTW.

My point is that even if it's not a solution everyone wants right now, the efforts the free software people are making are really helping those of us trying to be "off the grid" as you tag the topic. Take the f-droid project for instance. It's been a godsend keeping my old phone useful and avoiding having to use Google's Play Store. So yeah, me and three other people right? But aside from getting to "nerd it up" it gives me ground and motivation to make vendors who require Play Store's use (sometimes for critical infrastructure like getting a cab or charging an electric car) aware they should have alternate solutions available. It's not much, but I'm not a journalist or celebrity, so this is as much influence as I'd expect to have.
If you have any thoughts on the things discussed in this or previous episodes, please feel free to contact me. In addition to the information listed there, we also have an experimental Matrix room for feedback. Try it out if you have an account on a Matrix server. Any Matrix server will do.
Toss a Coin to Your Podcaster
I am a freelance journalist and writer, volunteering my free time because I love digging into stories and because I love podcasting. If you want to help keep The Private Citizen on the air, consider becoming one of my Patreon supporters.

You can also support the show by sending money to

via PayPal, if you prefer.
Or, since its my birthday this week, you could also send me a present from my Amazon wishlist. I'd be very happy about that as well.
This is entirely optional. This show operates under the value-for-value model, meaning I want you to give back only what you feel this show is worth to you. If that comes down to nothing, that's OK with me. But if you help out, it's more likely that I'll be able to keep doing this indefinitely.
Thanks and Credits
I like to credit everyone who's helped with any aspect of this production and thus became a part of the show. This is why I am thankful to the following people, who have supported this episode through Patreon and PayPal and thus keep this show on the air:
Georges, Steve Hoos, Butterbeans, Jonathan M. Hethey, Michael Mullan-Jensen, Dave, 1i11g, Michael Small, Jackie Plage, Philip Klostermann, Vlad, Jaroslav Lichtblau, ikn, Kai Siers, Bennett Piater, Fadi Mansour, Joe Poser, Dirk Dede, tobias, m0dese7en, David Potter, Sandman616, Mika, Martin, Rhodane the Insane, Rizele, avis, MrAmish, Dave Umrysh, drivezero, RikyM, Barry Williams, Jonathan Edwards, Cam, Philip, Captain Egghead, RJ Tracey, D, Rick Bragg, Robert Forster, Superuser, noreply and astralc.
Many thanks to my Twitch subscribers: Mike_TheDane, Flash_Gordo, l_terrestris_jim, redeemerf, Galteran, BaconThePork, jonathanmh_com, Sandman616, Zenith252, centurioapertus and m0dese7en_is_unavailable.
I am also thankful to Bytemark, who are providing the hosting for this episode's audio file.
Podcast Music
The show's theme song is Acoustic Routes by Raúl Cabezalí. It is licensed via Jamendo Music. Other music and some sound effects are licensed via Epidemic Sound. This episode's ending song is Nieras by the Bladverk Band.