I don't like Elon Musk. But I think him buying Twitter isn't a bad thing. The people who do, however, are either unintentionally wrong or they are actively fighting on the side of censorship and propaganda, like the US intelligence community.
Welcome to The Private Citizen! Today on the podcast, we will talk about Elon Musk and Twitter.
According to my (intentional) limited ability to track these things, listenership of the show has about doubled since the end of last year, which is pretty amazing.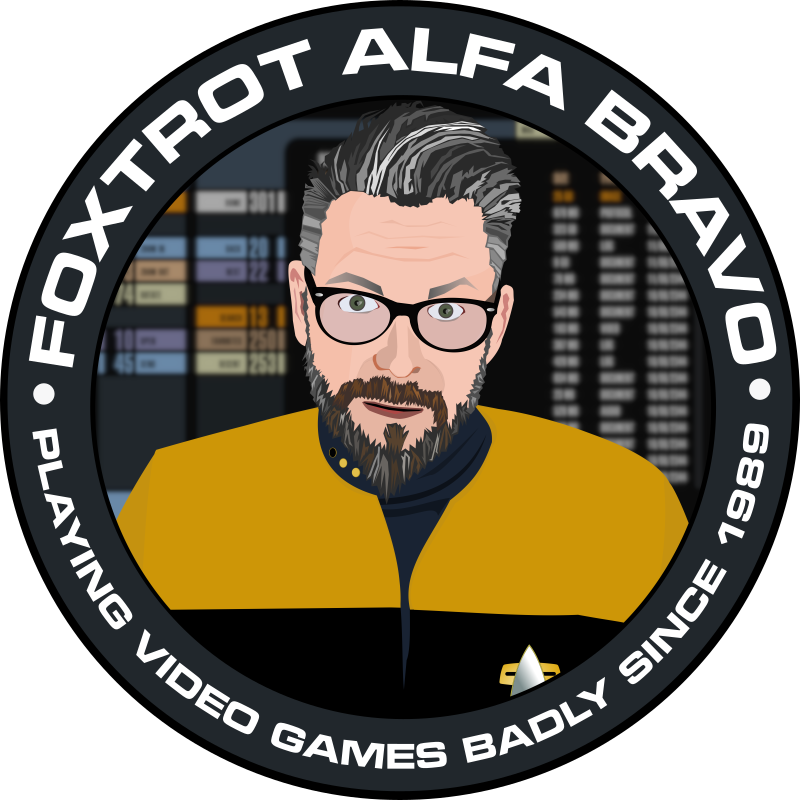 This podcast was recorded with a live audience on
my Twitch channel
. Details on the time of future recordings can usually be found
on my personal website
. Recordings of these streams get saved
to a YouTube playlist
for easy watching on demand after the fact.
Why I Don't Like Elon Musk
I broadly explain why I've always disliked Elon Musk and other people like him. As stance I've been publicly espousing since the early days of Linux Outlaws.
What Musk's Takeover of Twitter Reveals about the Progressive Elites
Elon Musk buying Twitter has the political mainstream in panic. This is because the progressive left is seeing their censorship monopoly over the political discourse there as being in danger and they've convinced most of the press and many people listening to my colleagues that this is bad.
Glenn Greenwald analysed the initial news of Musk buying Twitter as follows:
During the failed liberal campaign to force Spotify to remove Joe Rogan's podcast – remember that? – I wrote that the real lesson from that tawdry episode was that the central religious belief of American liberals now is censorship. Silencing, deplatforming and otherwise preventing their adversaries from being heard is their paramount goal, their primary weapon.
c.f.: Episode 107: Neil Young is Being a Dick
As I noted yesterday in reporting on the unprecedented censorship regime imposed in the West in the name of the war in Ukraine, a series of ostensible crises — Russiagate, the 1/6 riot, the COVID pandemic and now this war — have, in rapid succession, convinced not just liberals but increasingly large numbers of Westerners in many ideological camps not only to tolerate but to crave state/corporate censorship. They have somehow inverted history so that they now believe that it is not censorship that is the favored tool of fascists, tyrants and authoritarians — even though every fascist and despot in history used censorship as a key means for maintaining power — but instead believe that it is free speech, free discourse, and free thought that are the instruments of repression.

Few events have revealed this twisted framework as vividly as the news that Elon Musk offered on Wednesday to buy Twitter and take it private. The fact that Musk has repeatedly denounced Twitter's increasingly heavy-handed and clearly ideological censorship regime does not mean he is earnest in his intention to restore free speech to the platform, but the mere possibility that he does intend to do so has sent censorship-dependent liberals into spasms of panic and hysteria. Before the morning was over, some were even comparing Musk's offer to . . . . . the rise of Nazism in the 1930s.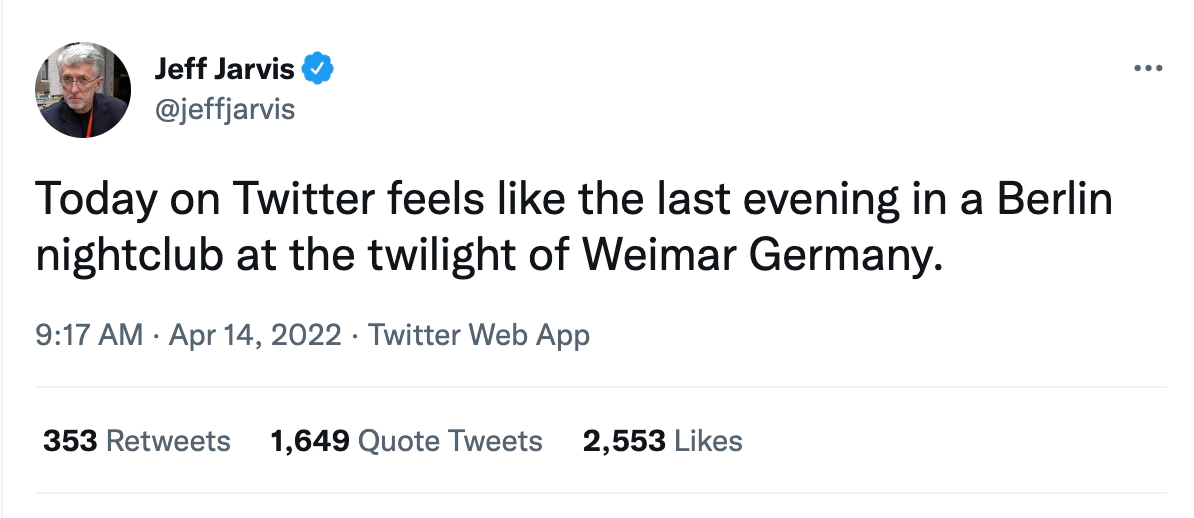 Matt Taibbi puts it well, when he writes:
This is the elite argument against free speech in a nutshell: "If you favor 'all legal speech,' you really just want to slander, threaten, and harass."

The hypocrisy of America's self-appointed culture-protectors this week is breathtaking. They really seem not to realize that what they've been seeking for years isn't an end to speech abuses, but a monopoly on them. They see Musk as a traitor to his class, threatening to upend what they see as a natural order that in recent years placed bluenose squads in deserved roles as vanguards and truth-arbiters. Whether or not Musk ever upends anything is a different question, but critics believe he will, and now they're panicking, in tones of maximum sanctimony.
He then goes on to gloat a bit, which in my opinion, is well deserved.
I spent a good part of the last four years warning that asking unaccountable billionaires to meddle more in speech would result in exactly such a table-turning episode, in which the political mainstream's cocky censor squad would wake up one day to find the wrong tycoon in charge, at which point they would cry foul and howl suddenly about the evils of oligarchy. For failing to cheer their vision of enlightened censorship, colleagues denounced me as a reactionary pervert in the employ of (pick one) Trump/Assad/Putin. So it's hard to do anything but chuckle at their anguish this week.
In a second piece, he points out how stupid the arguments of these people are.
Probably the funniest effort along those lines was this passage: "We need regulation… to prevent rich people from controlling our channels of communication." That was Ellen Pao, former CEO of Reddit, railing against Musk in the pages of… the Washington Post! A newspaper owned by Jeff Bezos complaining about rich people controlling "channels of communication" just might be the never-released punchline of Monty Python's classic "Funniest Joke in the World" skit.

Many detractors went the Pao route, suddenly getting religious about concentrated wealth having control over the public discourse. In a world that had not yet gone completely nuts, that is probably where the outrage campaign would have ended, since the oligarchical control issue could at least be a legitimate one, if printed in a newspaper not owned by Jeff Bezos.

However, they didn't stop there. Media figures everywhere are openly complaining that they dislike the Musk move because they're terrified he will censor people less.
In every newsroom I've ever been around, there's always one sad hack who's hated by other reporters but hangs on to a job because he whispers things to management and is good at writing pro-war editorials or fawning profiles of Ari Fleischer or Idi Amin or other such distasteful media tasks. Even that person would never have been willing to publicly say something as gross as, "For democracy to survive, it needs more censorship"! A professional journalist who opposed free speech was not long ago considered a logical impossibility, because the whole idea of a free press depended upon the absolute right to be an unpopular pain in the ass.

Things are different now, of course, because the bulk of journalists no longer see themselves as outsiders who challenge official pieties, but rather as people who live inside the rope-lines and defend those pieties. I'm guessing this latest news is arousing special horror because the current version of Twitter is the professional journalist's idea of Utopia: a place where Donald Trump doesn't exist, everyone with unorthodox thoughts is warning-labeled ("age-restricted" content seems to be a popular recent scam), and the Current Thing is constantly hyped to the moronic max. The site used to be fun, funny, and a great tool for exchanging information. Now it feels like what the world would be if the eight most vile people in Brooklyn were put in charge of all human life, a giant, hyper-pretentious Thought-Starbucks.

My blue-checked friends in media worked very hard to create this thriving intellectual paradise, so of course they're devastated to imagine that a single rich person could even try to walk in and upend the project. Couldn't Musk just leave Twitter in the hands of responsible, speech-protecting shareholders like Saudi Prince Alwaleed bin Talal?
It Reaches Much Deeper Than Elon Musk
But its obvious that the campaign to normalise censorship on the internet – and somehow make it appear essential to democracy, instead of the danger to it that it actually is – goes much deeper. Greenwald calls this the "unholy alliance between the intelligence community, the corporate press and Big Tech" and I've talked about it on this show in the past.
In the wake of the propaganda campaign in the war in Ukraine, he's been reporting on the US security state trying to shoot down legislation that would limit the ability of the big tech companies to control public discourse. The whole outrage in the wake of Musk buying Twitter is merely a symptom of a much larger problem.
A group of former intelligence and national security officials on Monday issued a jointly signed letter warning that pending legislative attempts to restrict or break up the power of Big Tech monopolies — Facebook, Google, and Amazon — would jeopardize national security because, they argue, their centralized censorship power is crucial to advancing U.S. foreign policy. The majority of this letter is devoted to repeatedly invoking the grave threat allegedly posed to the U.S. by Russia as illustrated by the invasion of Ukraine, and it repeatedly points to the dangers of Putin and the Kremlin to justify the need to preserve Big Tech's power in its maximalist form. Any attempts to restrict Big Tech's monopolistic power would therefore undermine the U.S. fight against Moscow.

While one of their central claims is that Big Tech monopoly power is necessary to combat (i.e., censor) "foreign disinformation," several of these officials are themselves leading disinformation agents: many were the same former intelligence officials who signed the now-infamous-and-debunked pre-election letter fraudulently claiming that the authentic Hunter Biden emails had the "hallmarks" of Russia disinformation (former Obama Director of National Intelligence James Clapper, former Obama CIA Director Michael Morrell, former Obama CIA/Pentagon chief Leon Panetta). Others who signed this new letter have strong financial ties to the Big Tech corporations whose power they are defending in the name of national security (Morrell, Panetta, former Bush National Security Adviser Fran Townsend).

The ostensible purpose of the letter is to warn of the national security dangers from two different bipartisan bills — one pending in the Senate, the other in the House — that would prohibit Big Tech monopolies from using their vertical power to "discriminate" against competitors (the way Google, for instance, uses its search engine business to bury the videos of competitors to its YouTube property, such as Rumble, or the way Google and Apple use their stores and Amazon uses its domination over hosting services to destroy competitors).

The amount of bipartisan support each bill has garnered — and the widespread animosity toward Big Tech reflected by this Congressional support — has shocked Google, Amazon, Apple, and Facebook lobbyists, who are accustomed to getting their way in Washington with lavish donations to the key politicians in each party.

This letter by former national security officials is, in one sense, an act of desperation. The bills have received the support of the key committees with jurisdiction over antitrust and Big Tech. In the Senate, five conservative Republican Committee members who have been outspoken critics of Big Tech power — Grassley, Sens. Lindsey Graham (R-SC), Ted Cruz (R-TX), Josh Hawley (R-MI), Sen. John Kennedy (R-LA) — joined with Democrats to ensure the passage of one bill out of the Judiciary Committee by a 16-6 vote, with a companion bill passing that Committee with the support of 20 of twenty-two Senators. As The Intercept's Sara Sirota and Ryan Grim report: "Both bills have Big Tech reeling" since "a floor vote would likely be a blowout for Big Tech." The extreme animus harbored by large parts of the left and right toward Big Tech make it very difficult for any lawmaker to go on record in opposition to these proposed bills if they are forced to publicly take a position in a floor vote.

As a result, Big Tech's last hope is to keep the bill from reaching the floor where Senators would be forced to go on record, a goal they hope will be advanced by Senate Majority Leader Chuck Schumer of New York due to his close ties to Silicon Valley. "Both [Schumer's] children are on the payroll of companies the proposals would seek to rein in," reported The New York Post: "Jessica Schumer is a registered lobbyist at Amazon, according to New York state records. Alison Schumer works at Facebook as a product marketing manager." Despite that, Schumer claimed to The Intercept that he supports both bills and will vote in favor of them, even though he has engaged in maneuvers to impede the bills from getting a full floor vote.

This is where these former intelligence and national security officials come in. While these former CIA, Homeland Security and Pentagon operatives have little sway in the Senate Judiciary and House Antitrust Committees, they command great loyalty from Congressional national security committees. Those committees, created to exert oversight of the U.S. intelligence and military agencies, are notoriously captive to the U.S. National Security State. The ostensible purpose of this new letter is to insist that Big Tech monopoly power is vital to U.S. national security — because it is necessary for them to censor "disinformation" from the internet, especially now with the grave Russian threat reflected by the war in Ukraine — and they thus demand that the anti-Big-Tech bills first be reviewed not only by the Judiciary and Antitrust Committees, but also the national security committees where they wield power and influence, which have traditionally played no role in regulating the technology sector.
And why exactly is the so-called "intelligence community" rallying to protect big tech? Because they have mutual interests, of course.
Why would these former national security and intelligence officials be so devoted to preserving the unfettered power of Big Tech to control and censor the internet? One obvious explanation is the standard one that always runs Washington: several of them have a financial interest in serving Big Tech's agenda.

Unsurprisingly, Apple CEO Tim Cook has himself pushed the claim that undermining Big Tech's power in any way would threaten U.S national security. And there is now an army of well-compensated-by-Silicon-Valley former national security officials echoing his message. A well-researched Politico article from September — headlined: "12 former security officials who warned against antitrust crackdown have tech ties" — detailed how many of these former officials who invoke national security claims to protect Big Tech are on the take from the key tech monopolies
The idea that these monopolies are crucial to protect the US democratic system is ludicrous, of course. But sadly, many people who have no clue about the topic and believe the press also believe this bullshit. It's like that net neutrality story all over again, just worse.
The view that preservation of Big Tech is vital for national security is by no means a unanimous view even in that world. Retired Gen. Wesley Clark and others have vehemently argued that this claim is a "myth." As veteran internet security expert Bruce Schneier observed: "These bills will encourage competition, prevent monopolist extortion, and guarantee users a new right to digital self-determination." But the National Security State has enough True Believers combined with paid shills to make it appear as if Americans should be desperate to preserve and protect Big Tech's power because this power is crucial to keeping America safe and, particularly, fighting Russia.
The real reason for the union between big tech and the security state is that the tech companies get to make money under the protective hand of the government while the government gets to spy on people and control the political discourse. And the press is too inept or too corrupt to truthfully report on this.
There are indeed valid and rational reasons for these officials to view Big Tech monopoly power as a vital weapon in advancing their national security agenda. As I documented last week when reporting on the unprecedented censorship regime imposed in the West regarding the war in Ukraine, Big Tech censorship of political speech is not random. Domestically, it is virtually always devoted to silencing any meaningful dissent from liberal orthodoxy or official pieties on key political controversies. But in terms of foreign policy, the censorship patterns of tech monopolies virtually always align with U.S. foreign policy, and for understandable reasons: Big Tech and the U.S. security state are in a virtually complete union, with all sorts of overlapping, mutual financial interests: Note that this censorship regime is completely one-sided and, as usual, entirely aligned with U.S. foreign policy. Western news outlets and social media platforms have been flooded with pro-Ukrainian propaganda and outright lies from the start of the war.

Members of the U.S. Congress have gleefully spread fabrications that went viral to millions of people, with no action from censorship-happy Silicon Valley corporations. That is not a surprise: all participants in war use disinformation and propaganda to manipulate public opinion in their favor, and that certainly includes all direct and proxy-war belligerents in the war in Ukraine.

Yet there is little to no censorship — either by Western states or by Silicon Valley monopolies — of pro-Ukrainian disinformation, propaganda and lies. The censorship goes only in one direction: to silence any voices deemed "pro-Russian," regardless of whether they spread disinformation….Their crime, like the crime of so many other banished accounts, was not disinformation but skepticism about the US/NATO propaganda campaign. Put another way, it is not "disinformation" but rather viewpoint-error that is targeted for silencing. One can spread as many lies and as much disinformation as one wants provided that it is designed to advance the NATO agenda in Ukraine (just as one is free to spread disinformation provided that its purpose is to strengthen the Democratic Party, which wields its majoritarian power in Washington to demand greater censorship and commands the support of most of Silicon Valley).

Needless to say, the U.S. security state wants to maintain a stranglehold on political discourse in the U.S. and the world more broadly. They want to be able to impose propagandistic narratives without challenge and advocate for militarism without dissent. To accomplish that, they need a small handful of corporations which are subservient to them to hold in their hands as much concentrated power over the internet as possible.
Why Decentralisation isn't the Answer
Many, especially technically inclined, people believe that decentralised social networks are the solution to this problem. Sadly, that's a simplified viewpoint that just doesn't hold up to reality. Past experience tells us, that these systems are doomed to fail.
Producer Feedback
Feedback has been a bit sparse lately and this episode is already pretty long, so we'll do without it this time.
If you have any thoughts on the things discussed in this or previous episodes, please join our forum and compare notes with other producers. You can also contact me in several other, more private ways.
If you are writing in from Russia, you might want to use my whistleblower contact form.
Toss a Coin to Your Podcaster
I am a freelance journalist and writer, volunteering my free time because I love digging into stories and because I love podcasting. If you want to help keep The Private Citizen on the air, consider becoming one of my Patreon supporters.

You can also support the show by sending money to

via PayPal, if you prefer.
This is entirely optional. This show operates under the value-for-value model, meaning I want you to give back only what you feel this show is worth to you. If that comes down to nothing, that's OK with me. But if you help out, it's more likely that I'll be able to keep doing this indefinitely.
Thanks and Credits
I'd like to credit everyone who's helped with any aspect of this production and thus became a part of the show. I am thankful to the following people, who have supported this episode through Patreon and PayPal and thus keep this show on the air:
Georges, Steve Hoos, Butterbeans, Rhodane the Insane, Michael Small, Jonathan M. Hethey, Michael Mullan-Jensen, 1i11g, Dave, Jaroslav Lichtblau, Jackie Plage, Philip Klostermann, ikn, Sandman616, Bennett Piater, Vlad, m0dese7en, Rizele, Kai Siers, Joe Poser, avis, Dirk Dede, Fadi Mansour, David Potter, Mika, Cam, MrAmish, Dave Umrysh, RikyM, Barry Williams, Jonathan, RJ Tracey, Rick Bragg, Captain Egghead, astralc, Robert Forster, Superuser, D, Noreply and krunkle.
Many thanks to my Twitch subscribers: Mike_TheDane, jonathanmh_com, Galteran, l_terrestris_jim, redeemerf, BaconThePork and m0dese7en_is_unavailable.
I am also thankful to Bytemark, who are providing the hosting for this episode's audio file.
Podcast Music
The show's theme song is Acoustic Routes by Raúl Cabezalí. It is licensed via Jamendo Music. Other music and some sound effects are licensed via Epidemic Sound. This episode's ending song is The Appalachian Trail by Hunter Quinn.