An update on the coronavirus situation around the globe and the beginnings of a strategy to avoid mandatory tracking.
How do you do? Welcome to episode 11 of The Private Citizen. This is being released on 1 April, but there will be no jokes or untruths in this show, as current circumstances are a far cry from being funny and I've never been much of a fan of this tradition anyway.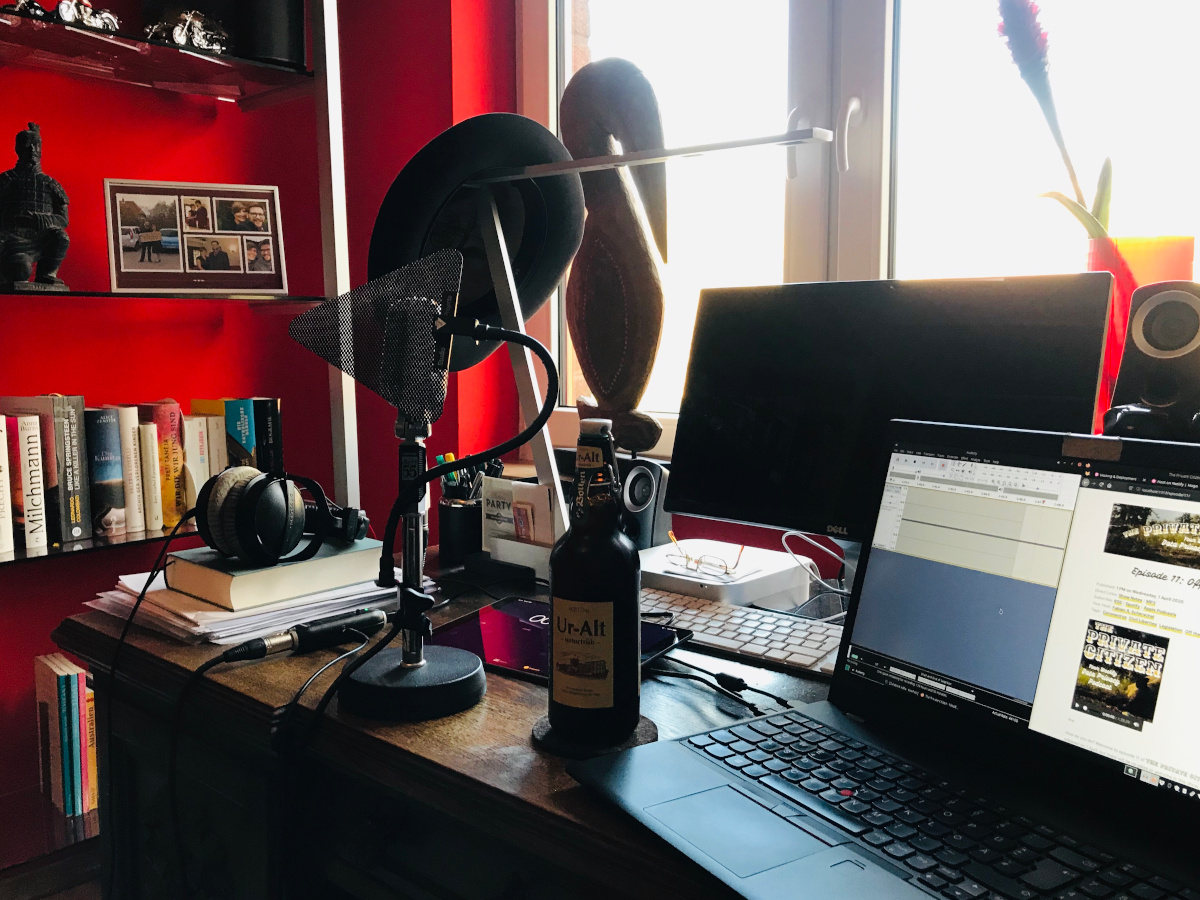 Podcasting from my father's study.
I'm recording this episode in Duisburg, Germany in my father's study in the house I was born in. My plan is to give you a quick update of the coronavirus situation and then discuss an idea I've had while thinking about all of this. If all goes according to plan, we'll then have an episode on a completely different privacy topic next week. But with all the madness going on at the moment, everything is a bit uncertain so let's just see how things develop. If something important COVID-19-related comes up, I'll definitely cover it.
Coronavirus Privacy Update
German health Minister Jens Spahn still wants to mandatorily track infected people and all their social contacts. This is a big debate in Germany right now. Worryingly, when asked YouGov asked 2042 Germans if this would be okay with them, around 50% said they'd support this kind of mandatory tracking

. This is obviously a major turning point in the public's approach to privacy here.
There's now talk about forcing people to wear masks when they go outside and one German city has already passed such a measure

.
In the US it is now being argued that personal privacy must take a backseat to "the common good". My argument remains the same one I have voiced several times on the show already: We simply don't know if the public at large is at risk. The data we have suggest otherwise and all of this flatten the curve stuff is pure guesswork that isn't based on the work of scientists in the field at issue. It's basically just pissing into the wind and hoping for a good outcome.
Meanwhile, actual scientists in Iceland have published work that suggests that 50% of all people infected don't have any symptoms at all. Which would explain why the virus spreads so rapidly and also mean that it is far less deadly than almost every single media report would have us believe.
But instead of actually analysing the data, the US press is engaging in victim blaming and shames people who might be infected and have no symptoms.
Already by Day 7, though, the virus had bloomed in his nose and throat, just as copiously as in those who did become ill. Patient Z might have felt fine, but he was infected just the same.
Totalitarian China is leading the way.
As millions of people in China emerge from weeks of lockdown, their freedom of movement is largely dependent on phone apps. The "health code" service – run on the ubiquitous platforms Alipay and WeChat and developed for the Chinese government – give users colour-coded designations based on their health status and travel history, and a QR code that can be scanned by authorities.

The apps are specific to each city or province, but generally people given a green code are allowed to travel relatively freely. A yellow code indicates that the holder should be in home isolation, and a red code says the user is a confirmed Covid-19 patient and should be in quarantine.

The apps have become an integral part of Chinese authorities' management of people and their movements in and out of affected areas. When lockdown restrictions in Hubei province were lifted last week, the government allowed residents with a green code to travel within and out of the province.

Some restaurants, shops, hotels and other establishments ask for patrons to show their codes before entering. In Wuhan, only those with a green health code are allowed to take public transport.
This reads like a chapter from a fucking cyberpunk novel from the '80s!
But the US is catching up fast.
Google (via its Alphabet sister company Verily) has launched a coronavirus screening tool. The website, which was developed in collaboration with the state of California, was rolled out on March 16 and currently offers coronavirus testing services in four counties. At first glance, it's simple. The site runs users through a series of screening questions via the company's Project Baseline health data collection platform. If the system deems them eligible, they're allowed to make an appointment for a much-coveted coronavirus test.

There's just one catch. Users must have a Google account to use the screening tool. If you're sitting at home wondering if your cough is seasonal allergies or COVID-19, you probably think this sounds like a good deal. And it is a deal, because Google didn't launch its screening tool out of altruism. It's doing so, at least in part, because it wants access to your health data, as part of the company's intense push into the health care business. Thanks to the coronavirus pandemic, the company has a new way to get your information.

With the blessing of both federal and state governments, Verily has set up a system where people must choose between sharing their health data with the company and, practically speaking, not getting a coronavirus test. That's no choice at all, given the stakes of not complying.
This story doesn't mention, of course, that getting a test does absolutely nothing for your health. Your treatment doesn't change one bit as soon as you know you're positive. All it does is help you protect people around you. A bit. Because if you're clean, how do you know that's still the case a day later? How do you know you didn't get infected on the subway ride home from the test centre?
And, of course, this whole madness is also changing the way we do science. And not for the better.
By the way, I have absolutely no sympathy for my colleagues in the US news media who are hurting bad because of this scare. They brought this on themselves. By being overly beholden to advertisers. By not fighting brand safety while they had the chance. And by relentlessly scaring people with one crisis clickbait headline after the other instead of actually doing good research and balanced reporting.
Off the Grid
The crackdown on personal liberties and cries of ubiquitous smartphone tracking makes it clear to me that we privacy conscious people need a plan to evade all of this crap. So I came up with an idea I call "off the grid". What that means is not being off the power grid or having no address, but basically implementing the cyber alternative to that. Switching your phone completely off (preferable) or only having it operate on WiFi networks (more realistic).
So I'm now starting to compile a list of apps that can be used completely in offline mode and things you can do to limit apps leaking your location when you are on WiFi.
This is a work in progress and I need your help with it. I'd love it if you contacted me with your own ideas.
Feedback
Jonathan M.H. chimes in about the episode he came up with:
Listened to episode 10 yesterday, I'm happy how it worked out! Mad props to your guest for just jumping head first into doing his first show in English as well!
Thomas says via the Fediverse:
I wanted to donate via Paypal today, but didn't find it on your page. Can you please adjust this little issue, so the non Patrons can give you money as well?
has sent me some information on the Chinese doctor who first blew the whistle on COVID-19. He also said:
Anyhow, I enjoy your new show and would like to hear your opinions of Operation Rubicon, if you ever get tired of talking about having a curfew (like a 12 year old).
If you also have thoughts on the things discussed here, please feel free to contact me.
Toss a Coin to Your Podcaster
I am a freelance journalist and writer, volunteering my free time because I love digging into stories and because I love podcasting. If you want to help keep The Private Citizen on the air, consider becoming one of my Patreon supporters.

You can also support the show by sending money to

via PayPal, if you prefer.
This is entirely optional. This show operates under the value-for-value model, meaning I want you to give back only what you feel this show is worth to you. If that comes down to nothing, that's OK with me, pard. But if you help out, it's more likely that I'll be able to keep doing this indefinitely.
Thanks and Credits
I like to credit everyone who's helped with any aspect of this production and thus became a part of the show.
Aside from the people who have provided feedback and research and are credited as such above, I'm thankful to Raúl Cabezalí, who composed and recorded the show's theme, a song called Acoustic Routes. I am also thankful to Bytemark, who are providing the hosting for this episode's audio file.
But above all, I'd like to thank the following people, who have supported this episode through Patreon or PayPal and thus keep this show on the air: Niall Donegan, Michael Mullan-Jensen, Jonathan M. Hethey, Georges Walther, Dave, Kai Siers, Matt Jelliman, Fadi Mansour, Joe Poser, Rasheed Alhimianee, Mark Holland, Steve Hoos, Butterbeans, Shelby Cruver, Vlad, Dave Umrysh, ikn, Vytautas Sadauskas, RikyM and drivezero.